Diane Morin has been with us since 1998. She was trained and worked as an X-ray Technician for a number of years before coming to Somerset Veterinary Hospital. Diane is currently our Head Receptionist and assists with bookeeping and OSHA compliance.
Diane is pictured here with Billy, who passed away in 2016. She has been married to her husband Pat for 15 years. She has 1 bunny, Oscar. In her spare time she enjoys gardening, crafts and shopping.
Diane retired in 2021, she has been with us for so many years we cannot take her off the website!




---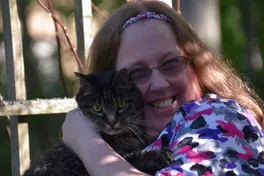 Lisa Vought has been part of the Somerset Veterinary Hospital team since 2002. Prior to this she worked at the Bender Shoe Co. sewing cowboy boots. She was also breeding Cocker Spaniels. When the factory closed she began taking classes at Penn State to open her own daycare and completed the Veterinary Assistant Program at the Allegany College of Maryland. Lisa likes working with animals. A favorite part of her job is making a sick animal better and knowing "how thankful the owners are for fixing their 'baby'." Over the past several years she has taken on new responsibilities handling purchasing and inventory for the hospital. She has a cat named "L Kitty". Here she is holding our hospital cat, TJ. The other great joy of Lisa's life are her grandchildren, Brailynn, Brooke and Maddox, who keep her busy and happy.
---
Brianna Burris Robinson is a 2013 graduate of Middletown High School where she completed Animal Science and Veterinary Technician courses. She grew up in Delaware on a small farm with a variety of small and large animals. Before joining our team in December of 2014 she was a manager for Delaware State Parks. Brianna is pictured here with Stryker and Yinzer, both German Shepherds. She also has Khaos who is a blood donor for our hospital. She still visits all of her other animals that reside in Delaware with her family. Brianna also spends her free time with her daughter Briar and her Husband.

---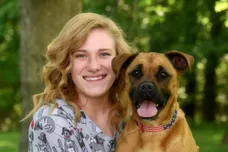 Kelsey Musto has been part of the Somerset Veterinary Hospital team since the summer of 2016. She attended Somerset Area High School where she was in the FFA and was the secretary of her chapter. She earned her National American Degree in 2018. She will soon begin her studies to become a Certified Veterinary Technician but her career goal is to become a Veterinarian. She has three cats, Olive, Freyja, and Swat.
---
Jessica Fundis was born and raised in Southwestern Pennsylvania. She attended Turkeyfoot Valley Area High School and earned her Veterinary Technician degree from the Vet Tech Institute in Pittsburgh. Jessica has been a certified Veterinary Technician for almost 12 years. She has been with Somerset Veterinary Hospital since October 2016 and is our Head Technician. Jessica currently lives in Rockwood with her husband, Zach, and their sons Eli and Amos. Her dogs are Trigger and Rodi along with her barn cats. On her free time she works on the farm raising cattle and taking care of her two horses and two goats.
---
Jessica Spory was born and raised in Cambria County Pennsylvania. She has been with us since October 2020. In 2020 she completed Ashworth College Veterinary Assistant Program, Obedience Trainer course and Pet Psychology Program. She will begin schooling for her degree in Veterinary Technology this summer. She is married with two daughters. She also has 3 dogs, a Pitbull named King, a Boerboel named Kong, and a puggle named Payslee. In her spare time she enjoys spending time with her family, training her dogs, and continuing her studies in Veterinary Medicine.

---
Deb Custer has been working at Somerset Veterinary Hospital since September 2020. She was a manager at Dollar General for 19 years. She has a daughter and a Son, one grandpup, and two dogs of her own. She graduated from Meyersdale Area School District and has been married for 40 years.
---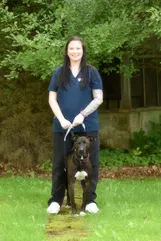 Danielle Henger is pictured with her dog Sonic, who's a Pit Bull. She is from Johnstown Pennsylvania and graduated from Westmont Hilltop High school in 2018. She earned her Veterinary Technician Degree in April 2020 from Vet Tech Institute in Pittsburgh. In her free time she enjoys spending time with family and friends.
---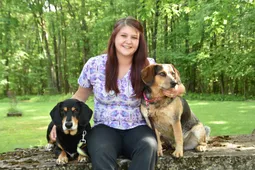 Molly Mendicino is originally from Mount Pleasant and she currently lives in Berlin on a farm. She attended college and earned her vet assistant certification in 2019. She is currently taking classes to become a certified veterinarian technician. She was previously a Tech at Brown equine hospital where she gained a lot of experience and worked with great techs and doctors. Her goal in this career is to become a stronger tech in all aspects, from large animals to small. When she's not working you'll find her in the barn milking cows or riding horses with her friends, and training her five-month-old donkey Gus. She also enjoys spending time with her family along with being around animals in general.

---
Keneshia Coleman is from Meyersdale and graduated from Meyersdale Area High School with honors in 2018. She has been working with us for the past three years during the summer and winter breaks from College. She attended Morehead State University and she recieved her bachelors in Bachelors of Science of Veterinary Medicine. During her junior year of college she was accepted into AG honor society and kept the position of Vice President until she graduated. She will be attending Vet school at Ross University in the Caribbean this semester.